Google's organic search results account for 43% of all e-commerce traffic, and 53% of US consumers say they conduct product research online before making a purchase decision.
But how can people find your website or products in Google or any other engine's search results?
You can run PPC ads or pay influencers to drive traffic to your eCommerce site, but they are expensive, and you can only keep investing in ads for some products.
If you want your products to appear in search results organically, which means without paying the search engines, you need SEO (Search engine optimization).
Starting an online WooCommerce store business is about more than just uploading some product photos and launching the website. To succeed in a market saturated with similar products, cutthroat competition, and empty promises to consumers requires careful preparation, innovative marketing strategies, high-quality content, and a long-term approach to rollout.
SEO is an essential aspect of any eCommerce business development process. In this article, we will discuss why SEO for WooCommerce is necessary and share step-by-step guidelines and tips and tricks for WooCommerce SEO.
Let's begin.
What is SEO?
Search engine optimization, SEO for short, is enhancing your website to rank higher in search engine results for terms related to your business and its products or services. In simple words, SEO is how you raise your online shop's visibility in the results of users' searches on major search engines like Google, Bing, and Yahoo.
When more people can find your pages in search results, you increase your chances of gaining new and returning customers.
There are two major types of SEO. Content SEO and technical SEO.
Optimizing your site's performance, security, and navigation is a part of technical SEO that can directly impact your site's rankings and user experience. On-page and off-page keyword optimization, or the features of your site that readers will interact with, are what content SEO is all about.
Google uses a set of criteria known as ranking factors to determine the order in which search results are displayed. A higher rank in Google is contingent upon the content and keywords on the web page itself, the number of backlinks to your site and the quality of those backlinks, and technical aspects such as the user experience, including how quickly your pages load, how secure they are, and how they are structured.
Why do you need SEO for WooCommerce?
Search engine optimization is vital to build a sustainable brand, reach a wider audience, and generate more revenue. Let's look at some of the benefits of WooCommerce SEO optimization.
Visibility and Rankings
One of SEO's primary roles is boosting exposure or making it more straightforward for potential customers to find your business online in response to a search for a product or service. There is a one-to-one relationship between rank and exposure.
Most companies' websites rely heavily on organic search results, and these results are crucial to the success of the sales funnel and in encouraging users to take the desired action of converting or engaging.
Improving your organic page ranking is crucial as a higher SERP position increases the likelihood that new customers will see and click through to your site. Since one-fourth of all internet users never scroll past the first search engine results page (SERP), your SEO efforts must yield positive results to maximize your site's visibility and, ultimately, its ranking.
Google also now shows some products from the Google shopping engine at the top or right side of the SERP pages. You can upload your SEO-optimized WooCommerce products to the Google shopping engine for free with the help of a product feed plugin.
Web Traffic
One of the primary aims of SEO is to increase web traffic, which is achieved by raising the website's visibility and ranking in relevant search results. Think about this for a second: 32% of users click on the top mark in a Google search, and a whopping 30.8% increase in click-through rate can be achieved simply by moving up one position in the search results.
Since the Featured Snippet always appears before the top-ranked URL, many marketers consider it the Holy Grail. Following recommended guidelines, you can answer common questions related to your products on your products pages. The question-answer can appear on the Featured Snippet section of the search result pages.
As a result, it can boost your organic click-through rate.
Put, if you want more people to discover your website via a search engine, you should employ SEO strategies that place you in the top five results, if not at the very top.
Credibility
High search engine rankings indicate a high-quality and trustworthy website, which is good for business. And here, the page authority (PA) score comes into play.
A high page authority score indicates that visitors can trust your site's reliability, content quality, relevance, and value. Page Authority (PA) is gaining more significance to web users, which in turn is making it more significant to search engines.
Cost-effective
Unlike pay-per-click advertising or traditional forms of advertising, search engine optimization (SEO) costs nothing but your time if you do it yourself.
Even if you don't do the SEO yourself, Search engine optimization (SEO) costs little compared to other forms of marketing. But it can have a positive impact on a company's profits.
This isn't a marketing expenditure but rather a necessary business expenditure.
A site with SEO executed exceptionally well will continue to rank well for many years. Like most things in life, it will improve with time and effort.
Competitive advantage
There is a good chance that rival businesses to yours will be investing in search engine optimization (SEO). The companies that put the most resources into search engine optimization typically see the most significant returns in terms of increased market share and higher placement in organic search results.
Over 90% of clicks go to the results on the first page of a Google search, so if your competitors are already there, you need to be there too.
Improves user experience
For online stores to succeed, UX (user experience) must be prioritized, as this ultimately determines whether a customer will make a purchase and leave your site satisfied. Making purchases less of a hassle for customers encourages repeat business.
The effort you put into woo commerce SEO for things like great content and on-page SEO optimization also benefit site visitors. Customers will have a pleasant and stress-free experience as a result.
For instance, if you take the time to ensure that your site is responsive, it will be accessible to users regardless of whether they are using a mobile device, a tablet, a laptop, or a desktop computer.
Similarly, if you can get your pages to load faster, you can expect a lower bounce rate and more time spent on your site. Consumers have a three-second threshold beyond which they will abandon a page that has yet to load quickly enough.
You can expect a higher bounce rate and fewer conversions as page load times increase.
Necessary elements of WooCommerce SEO optimization
Let's take a look at some of the most common terms you will see in doing SEO marketing for WooCommerce.
Keywords
Keywords are essential for any online marketing, let alone SEO marketing for WooCommerce. In addition to marketing, keywords are crucial for even a general user of the internet because search engines show you results primarily based on keywords.
But what are keywords, exactly?
Keywords are words and phrases that customers use to search for online content. Brands can use keywords to connect with customers searching for their products and services online.
For example, 'blue t-shirt' is a keyword. Customers will search with this term when they need to buy a blue t-shirt.
If you sell blue t-shirts and don't include the word 'blue t-shirt' in your blue t-shirt's product page, then search engines will not show your page in the search result. Simple as that.
You will need keywords in every SEO step for the WooCommerce campaign. In addition, you will also need them when listing your products in price comparison engines, for your PPC campaigns, and even for social media or content marketing campaigns.
How Google uses keywords
For instance, suppose a customer is looking to buy an android phone for under $300. Let's say he went to Google and searched with the term 'I want to buy an android phone under 300 USD.'
It will return something like this:
So, how Google finds and shows you the result?
Google picks the most important words (keywords) from the user's query and crawls its index, and gathers the pages that match the keywords. For example, in this case, Google will pick these keywords – 'android,' 'phone,' 'under,' and '300′.
Google will automatically read your location to find your preferred language and currency and gather the pages with those keywords in common. The search engine will first see all the pages that contain the word android, then all the pages with the word phone, and all the pages with the other keywords.
After that, it will filter the pages with all those keywords in a single page. Then they will organize and display the pages according to their SEO rankings.
As you can see in the image below, the search giant just took 0.69 seconds to perform all the abovementioned tasks.
You will notice that it bold-marked the keywords present on the pages. You can also realize what keywords Google used for that query.
Again, besides the featured snippets, Google displays ten results on the first page. They determine the best pages to show based on the SEO criteria we talked about earlier such as keywords implementation, backlinks, content quality, page speed, page security, user experience, etc.
Therefore, if you sell android phones under $300 in your WooCommerce store, you first need to research the best keywords and implement them in your website content.
Alt text
A textual description of an image or graphic that helps Google figure out what it is. Screen readers also read the alt text out loud to people who can't see the picture so they can understand it.
Page title
Page titles or product titles are one of the most essential parts of any product page. This 50-60 character line is equally crucial for WooCommerce product page SEO.
Meta description
The brief description (typically between 140 and 160 characters in length) appears under your page title in search engine results.
Page titles and meta descriptions (also known as meta tags) are your primary tools for encouraging search engine users to click through to your site. Make sure to incorporate a catchy summary, your chosen keyword phrase, and a call to action tailored to your audience.
The blue-colored text is the title, and the smaller font-size text is the meta description in the following search result image.
Backlink
When another website includes a link to your online store, this is known as a backlink. These inbound links vote for confidence in the quality of your store's offerings and are thus an integral part of any SEO strategy.
Internal link
It means a connection between two pages within your online store. In simple words, you are backlinking to one of your own pages.
An internal link can improve metrics like session duration by directing readers to relevant articles. The use of internal links also aids search engines in comprehending the relationships between individual pages.
Step-by-step guide for WooCommerce SEO
With 5+ million active websites and a 24% market share, WooCommerce is undoubtedly the undisputed king of eCommerce platforms. And Woo Commerce's biggest strength, what sets it apart from its competition, is the vast plugin/extension library.
You can extensively enrich the features of WooCommerce or add different ones with the help of third-party plugins. The same goes for SEO for the WooCommerce store.
Even though the core WooCommerce plugin doesn't have all the necessary tools and features for doing SEO for a WooCommerce shop, there are a number of great SEO plugins available for you that will make SEO for WooCommerce a breeze.
For this article, we will be using the Yoast SEO WordPress plugin. But first, here's the checklist for doing SEO for WooCommerce.
Ensure your site is indexable

Set proper permalinks

Enable customer reviews

Internal link building

Connect analytics account

Install & set up the Yoast SEO plugin

Submit sitemap to search engines

Set taxonomy settings

Optimize product titles

Optimize product descriptions

Optimize product page URL

Optimize image title and alt texts

Enable breadcrumbs

Optimize category and other pages
Let's start with optimizing some WooCommerce built-in features.
Optimization using built-in features
Make sure your site is visible on search engines
WordPress has a built-in option for stopping search engines from crawling your website. Make sure you disable that option.
To do so, log in to your WordPress admin panel, jump to Settings>>Reading, and scroll down to the bottom of the page. You will see this option – 'Discourage search engines from indexing this site.'
This setting is ordinarily unchecked in WordPress. However, it would help if you still made sure this option is NOT checkmarked.
Set the proper permalinks
Permalinks are the URL structure of your Woo store, and URL structure is something search engines take into consideration when ranking your site. Therefore, it's an essential element of SEO for WooCommerce.
Your URL structure must be easy to understand and remember. WordPress does provide a URL/permalink structure by default; however, it's not SEO friendly.
Let's go to Settings>>Permalinks and check out the settings.
As you can see, the default URL structure looks something like this – https://yoursite.com/?p=123
URLs like these are terrible from an SEO perspective because they are impossible for search engines to interpret and contextualize.
Here's a URL example that makes sense and is SEO-friendly – https://yoursite.com/seo-for-woocommerce
You should select "Post name" because you are developing an online store. Since most of your content, aside from product pages, will be blog posts, there's no need to muddle the URL with archive names or dates.
If you scroll down, you'll find controls for creating permanent links to individual products.
A product page's URL can have various structures, and you can choose one here. You can select "Shop base" if you prefer a shorter URL or "Shop with the category" to include a product category in the URL.
Save changes once you are done.
Enable customer reviews
93% of shoppers report being influenced by online reviews. Online reviews increase consumers' confidence in a business by 63% compared to when there are none.
Consumers now rely heavily on online reviews to aid their decision-making processes, and customer reviews also boost SEO rankings. Therefore, you must enable product reviews on your WooCommerce site.
To enable reviews in WooCommerce, go to WooCommerce>>Settings, click on the Product tab, and scroll down to find the Reviews section.
Internal link building
E-commerce search engine optimization relies heavily on internal linking structures. And it aids Google in crawling your site for new content.
What Google has to say about its web crawling methodology is as follows:
Due to the lack of a centralized database of all web pages, Google must actively seek out and add new pages to its index. Due to Google's previous crawling, some pages are already well-known. When Google finds a link to a new page from an existing page, it investigates the new page as if it were part of the original.
This means that whenever you add a new product page to your site, you must also add links to that page from other pages on your site, such as blogs and product pages.
Including a "Related Products" section is a great way to strengthen your online store's internal linking structure. You can do this from your product pages.
Go to any products page, scroll down to the Product data section, and click on the Linked Products tab. You can select upsell and cross-sell products from there.
Connect analytics account
Google Analytics is a tool that provides insight into website traffic by monitoring who visits and how often. When running an online store, monitoring user activity is crucial for fine-tuning your marketing and site layout in order to maximize sales.
It's straightforward to connect to Google analytics nowadays. Google has its plugin called Site Kit Google, which helps you connect to Google analytics. Moreover, you can check all your analytics data from inside your admin panel; no need to log in to Google analytics separately.
Optimization using Yoast SEO plugin
You can increase your site's visibility in search results with the help of SEO plugins by incorporating meta tags, schemas, robots.txt, and other optimization techniques. You can also use it to fine-tune the SEO of your website's blog posts and articles.
As we have mentioned, we will use the Yoast SEO plugin. With 5+ million active installations, this is by far the most popular and best SEO for WooCommerce plugin.
Go to Plugins>>Add New and search for Yoast. Install and activate the plugin.
Yoast will prompt you to configure your website for SEO with a step-by-step first-time configuration window. You can choose to avoid following that and configure them manually later.
Let's check out the most critical settings for WooCommerce SEO.
From Yoast SEO>>General>>Features tab, you can enable SEO analysis for all your pages, including your product and category pages.
You can connect with different search engines' search consoles from the Webmaster tools tab. Click on any given links there, and it will redirect you to the appropriate pages.
For example, if you click on the Google search console link, it will take you to webmaster central, from where you can verify your ownership and get the verification code.
This is also important for getting access to the Google search console, where you can perform a series of tasks, including getting your WooCommerce site indexed in Google.
Submit sitemap to search engines
Jump back to Yoast SEO>>General>>Features tab, where you will find the sitemap option. Yoast creates sitemaps automatically as soon as you install the plugin.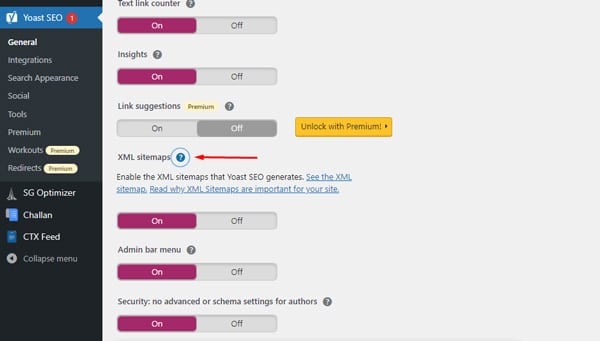 Click on the See the XML link to view it.
You can copy the URL, go back to your search console profile, and add the sitemap. Google will then crawl your website within a specific time and index your pages.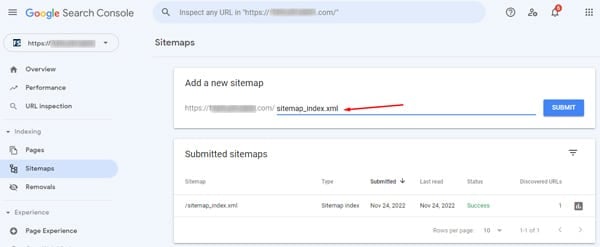 This is how Google will know the existence of your WooCommerce store and list your product pages and display them in search results according to their ranks. To put it another way, a sitemap is a blueprint for your website.
Search engines like Google, Yahoo, and Bing will use your sitemap to locate the various pages on your website and will crawl it regularly to index and rank it on search results pages.
Taxonomies
You can disable your product categories or tags to appear in search results from Yoast taxonomies settings.
Go to Yoast SEO>>Search Appearances>>Taxonomies tab. You can also set the default title and meta description for the pages. This is useful when you want only to write meta descriptions for some of your category pages.
If you don't provide any meta description for any tags or categories, then Google will fetch whatever it finds at the top of the page, which will not be SEO friendly. Therefore, invest time writing titles and meta descriptions for all your pages.
On-page SEO (Keyword implementation)
This is where the content SEO begins. You will officially begin SEO for WooCommerce by optimizing your product page contents.
Go to any product page and find a dedicated Yoast section to optimize that page for SEO.
Now it's time to implement the keywords you researched in your content. You can input your focus keyword in the Focus keyphrase box.
For instance, they are going back to that blue t-shirt example where users are looking for blue t-shirts. The main keyword was 'blue t-shirt,' so you should put that word in the focus keyphrase box.
Optimize product title
The title of a page is the first thing that search engines crawl, so focus on making that as good as possible. You also need to use your focus keyword in the title, which should make sense.
Please don't overdo it by stuffing several keywords in it. Please keep the product title short and brandable to increase conversion, but be descriptive enough to inform search engines what the product is and which keywords you want it to rank for to improve search engine optimization.
Running a WooCommerce store means that whatever you put in the title tag of each product page will appear in the search engine in that way. This is the initial phase of crawling.
If you are using Yoast, you can edit your title for the search engines and preview how they may look in Google from the Yoast panel.
By default, Yoast picks up your product page title as the SEO title. However, you can manually enter a different title for the search engines.
The green bar indicates it's SEO friendly, and if it turns red, then it means your title is too long or not SEO friendly.
Optimize product description/meta description
Product descriptions are essential for visitors and search engines to understand your products. Product descriptions can make or break a sale.
You need to research keywords and your competitor's product pages and develop well-organized and well-written product descriptions to convince your visitors and the search engines.
Again, please don't overdo it by stuffing keywords. Follow a proper format for all your product descriptions. Include product specifications and best features in bullet points and FAQ.
If you can create several paras for individual features with subheadings (h2 or h3), you will have a chance to get a place in the featured snippets.
However, search engine result pages display only partial descriptions. They show a shorter summary known as a meta description. If you don't write a meta description, search engines will fetch lines from your long descriptions, which will look incomplete.
Yoast provides a separate box to input your meta description. You can write a short description there. Yoast indicates with colored bars and a preview panel how it will look in the search engines.
A green bar means the full description will be visible on all devices, and orange and red denote you exceeded the recommended word limit.
Optimize product page URL
We have already mentioned how the URL structure impacts SEO for WooCommerce rankings. You can manually change your product page URLs from Yoast's slug section.
The best practice for slugs is to keep them short. You should include your focus keyword in the slug.
Alt text to images
We are still working on on-page SEO. After the product title, description, and URL, it's time to optimize your images. Every image in WordPress has some text boxes you can fill in and use them for SEO purposes.
Click on your featured image, and you will find the Alt text, caption, description, and title box. For WooCommerce SEO, we will need to edit/modify the Alt text and title box.
If you want your images to rank well in search engines, you need to use alt text. Search engines like Google use both the title and the alt text of an image to determine the relevance of the image to a particular keyword.
WooCommerce allows you to either add alt text to your product images at the time of upload or edit it later. You can write a short description of your product in the Alt text section to tell search engines what this image is all about.
It would help if you used your focus keyword here so that people can find your products even in the image search results.
Enable Breadcrumbs
Breadcrumbs are a fantastic addition to any site that wants to organize its internal linking structure better. Breadcrumbs are navigational links that can be found at the very top of any page, including product pages and blog posts.
Whether or not it is displayed on websites is a matter of preference. However, breadcrumb navigation should always be activated for the best user experience and search engine rankings on online stores.
Breadcrumbs allow visitors to a website to return to a previous page in their journey quickly. To find the breadcrumbs settings in Yoast, go to Yoast SEO>>Search Appearance>>Breadcrumbs.
Here's how Google will display your breadcrumbs in the search results.
Category page optimization
Category pages are crucial for online shops, so naturally, you'd like them to do well in search engine results. Yoast lets you optimize these pages like any other product or blog page.
Go to any category page and scroll down to find the Yoast section. Write your description for the category implementing your keywords.
Wrap up
We focused primarily on on-page SEO for WooCommerce using built-in features and the Yoast plugin in this article. There's a lot more to SEO than what we have discussed.
Some other essential optimizations you need to take care of our image optimization, installing SEO friendly theme, ensuring your site's security, installing a caching plugin, etc.
I hope this article on WooCommerce SEO is helpful. Let us know in the comments if you have any questions.